Background
In 1935, Geoffrey Malins started a manufacturing company called G.M. Patents Company. Under this name he made ball-race turntables (like lazy susans) and, later, toy steam engines that were sold to a company called Hobbies. These engines were commissioned by Hobbies to take the place of Bowman engines when Bowman ceased production that year.
Mr. Malins' engines were simple and well made. They were mostly stationary engines and marine plants. These sold well and the company grew. In 1939, Geoffrey Malins decided to market the engines on his own. The company name was changed to Mamod, a name coined by his wife Clarrie. The name is properly pronounced "May-mod", a contraction of Malins Models. Over the years the company expanded its line of stationary engines and added steam-powered vehicles, including a tractor, a road roller, an automobile (!), and a steam truck. It was not until 1980, though, that the company's railway system first appeared. This happened during the time when the Mamod Company passed from the Malins family after 44 years, into other hands. This is a sad story that need not be recounted here.
The Mamod Steam Railway
When it appeared in 1980, the railway system was fully formed. It was first offered as a set containing a locomotive, a log car a gondola car, and a loop of track. Other sets were added later, including another freight set with a boxcar and a guard's van, while a passenger set followed, containing a locomotive and two maroon coaches. These sets were only offered in gauge 0. It would be some time before gauge-1 trains were offered, although the Gauge 1 Model Railway Association commissioned a small batch of gauge-1 locomotives before they were actually put into standard production.
Mamod produced its own track. This was a strange product, die-cast in a zinc alloy. The pieces fitted together with interlocking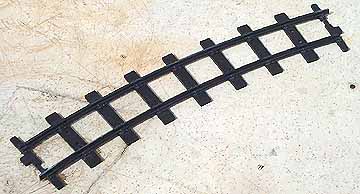 tabs that were easily broken off. One radius of curve, one length of straight, and right- and left-hand switches were offered. Once the tabs had been broken off, the track was useless unless it was screwed securely to boards. It was virtually impossible to shorten or modify the track, again because of the tabs. Needless to say, few people used it, although Jenifer and Jim Slater built a beautiful little railway, the Budley Bumblebahn, with Mamod track.
The locomotive
The locomotive, designed for Mamod by Barry Hares in 1978, was, I think, a brilliant design. It drew a lot from the toy engines of the 1920s and '30s, but it had some more modern innovations as well. For one thing, it replicated the proportions of a narrow-gauge locomotive, which made it the first narrow-gauge live steamer in mass production (aside from the Beck Anna, which was made in limited numbers). It had a shielded firebox and double-acting cylinders, making it a self-starter. Control—both speed and direction—was provided by a single lever that operated a valve between the cylinders. Steam was taken from an actual steam dome. The working pressure was only about 10 psi, more-or-less standard for toy engines. The boiler even had a water glass, a sort of window in the backhead. As supplied, it came with a solid-fuel (stinking, white pellets variously described as camel dung or worse) burner that barely did the job. On a good day, you might get eight to ten minutes out of the loco.
The ready-to-run engine was offered in three colors: hunter green, maroon, and, strangely, powder blue. The latter two had odd-looking diamond stacks. Later, the locomotive was offered in kit form, in black.
Mamod's locomotive has been much maligned over the years. When it came out, however, it was embraced with open arms by live steamers around the world. While marketed as a toy engine, it quickly found favor in the 16mm, narrow-gauge modeling groups. Due to its simple design, it was easily kitbashed into a vast variety of different models. Three have been featured in these pages, including Mac Muckley's Garratt, Colin Binnie's 2-6-0, and Graham Stowell's Irulan.
Despite its faults (and it had many), it was a decent runner, especially when fitted with some of the plethora of after-market accessories. One of the most important of these was a new burner. Alcohol burners were made by a variety of different makers and there was even a drop-in gas burner available for a while. Other improvements included lubricators, proper throttles, better cylinders, better boilers, and more. In fact, if you incorporated all of the improvements, you'd be left with little original besides the frames and bodywork. The engine could even be effectively radio controlled.
On the down side (apart from the ghastly fuel pellets), as supplied, the tiny engines were underpowered, tended to leak steam around the cylinders, often had problems with the seal around the steam pipe where it exited from the dome, was difficult to control with its single lever, and tended to run away when running light. Wheels sometimes came loose on the axles and crankpins came loose in the wheels. If you had the great misfortune of letting one run dry, the water glass would surely melt, as it was only made of plastic. This necessitated a major repair. All these problems, though, were fixable. In later years, quality control at the factory suffered greatly. This was a more serious problem that probably contributed to the engine's ill-deserved poor reputation more than anything else.
The concept of the Mamod was so good that it spawned a number of knock-offs, most of which were better engines. These include the Jane, the Creekside Baldwin, and Miniature Steam Railways' 0-4-0 tender engine, to name a few.
The Mamod locomotive, despite its shortcomings, introduced thousands to small-scale live steam, provided a platform for countless examples of creative work, and gave employment to the legions who provided improvements for it. Over 18,000 of these engines were made before production of the original locomotive ceased in 1989. The company changed hands several times and the engine is currently being produced by MSS (Mamod Sales & Service).
The run
For the official Locomotive-of-the-Month run, I chose a kit-built Mamod that incorporated several improvements, including a proper, in-cab throttle, a new safety valve, and a lubricator, all by Mike Chaney, and an alcohol burner with fiberglass wicks by Sidestreet Bannerworks.
Firing up is straightforward, following the usual procedure. Once the fire was lit, it took about five minutes to raise steam. The run was made with a train of three, all-metal Mamod cars. With the throttle in the cab, control was excellent and slow-speed running was no problem. The engine trundled around the track happily, even though it hadn't been run for many years. The run lasted around 15 minutes, with is average for this engine.
All in all, the Mamod steam locomotive has a lot to recommend it and its advent probably did more to boost our hobby than any other single product. Keep that in mind the next time you hear someone speaking disparagingly about it.