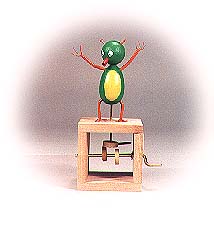 Automata
An automaton (plural: automata), as defined by the dictionary, is "...a machine that appears to imitate spontaneously the motions of men, birds, or other animals." The quest for a mechanized human was one that was taken very seriously in the 18th and 19th centuries, and many beautiful automata were produced.
However, that's not what this site is about. Modern automata, as approached by Paul Spooner and others, do not attempt to exactly replicate human motion. Their aim is to amuse rather than astound. A typical contemporary automaton will have an open box of works below and something that happens above when the crank is turned. Take a look.
Coming events
We intend this site to always be under construction. Please sign our Guest Book if you'd like to be notified of updates. Things we have planned for the future include:
New automata in the Gallery
As new models are finished, they will be posted to the Gallery.
New links
When we find a fun or informative site relating to mechanics or automata, we'll add it to our links page.
Animations
As we become more conversant with the technology, we hope to add animations to these pages so you can see the automata at work.